Modern Offices.....
Today I am sharing with all of you how to create the perfect home office and have provided the essential materials needed in order to have the perfect modern contemporary home office..
Enjoy the pics and post...
The Napoli Desk..
Float through your work day when you sit at the Italian-style Napoli Desk. It features two sizes and three veneers – golden cherry, sierra cherry or mahogany. It is ideal for the upscale home office that needs a boost in style, or any corporate or business setting. The desk top appears to be floating over the main structure through the use of silver metal supports, and the beveled surface matches the curved end panels to come together in a polished, modern look. Through minimalist simplicity and Italian inspiration, this desk manages to be both sophisticated and modern without being overbearing. The Napoli Desk can be purchased for $559.99 (63-inches wide) to $599.99 (72-inches wide) from ModernFurniture.com.
Essential Shelves...
This is a shelf that can hold its own, and then some. This thin, modular shelf appears almost fragile, but don't judge a book(shelf) by appearances – each one of the four included shelves can hold 110 pounds of weight. By using the force of gravity to its advantage, the Treku Bookcase manages to reduce wall stress while offering the most support for your books possible from such a lightweight design. Minimalist to its core, the two aluminum rods and four wenge or oak veneer shelves can be adjusted to compensate for uneven floors as well as different heights for your storage needs. You'll find the Treku Bookcase at DWR.com for $900.00 (oak) – $1,150.00 (wedge).
Wall attached Desk...
Don't let your work tie you down. If ever there was a way to rise above all of the papers, clutter, and other office mess that pervades your workspace, this floating Lax Wall Mounted Desk is the perfect beginning. It uses light, natural materials to create an open, flexible look. The walnut wood and white powdered aluminum doors are complimentary to the floating appearance of the desk itself. The added upper cabinet will only increase the image of a floating, carefree workspace. This desk can be used as a display shelf for living room accessories and media as well. The Lax Wall Mounted Desk is available at Spacify.com for $720.00.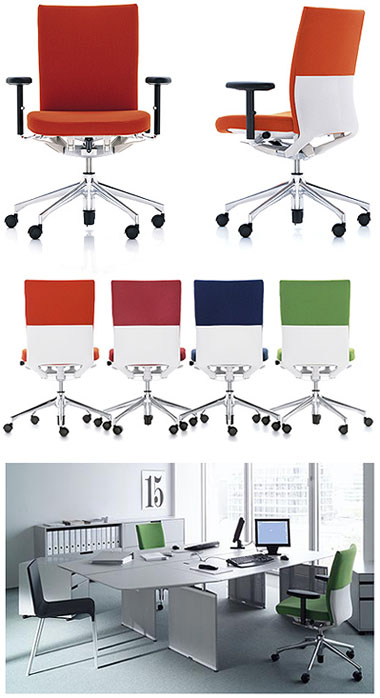 Make your office swish with a chair that does much more than just swivel. There are several factors that you should look for in an office chair: how comfortable it is, how it looks, how it fits with the rest of your decor. The Axess office chair will satisfy your entire check-list and then some. This chair automatically adapts to you, meaning that the back and seat are both movable and can form to any position. The height can be adjusted and set at any level. Each part on this chair is crafted from high-quality materials, and is connected in a manner that is easy to dismantle should you so choose. The Axess office chair comes in a variety of colors, both in terms of the plastic components and the fabric on the back and seat. No office chair has ever been more customizable or more stylish. You can find this modern office chair at Nova68.com
A modern look desk..
Work with perfect symmetry when you use this Martix Desk System as your office desk. It is designed for the modern office, with its symmetrical layout, its simple and un-embellished lines, and its spare use of material. The two main surfaces of this desk are made from faux leather, which are sophisticated and elegant while being functional hard surfaces to write and work upon. The base of this unit is made from chrome colored welded metal, which is durable, long-lasting and sturdy. Both the center joining unit and the shelf on the left unit are made from thick tempered glass. The abundance of surface space and stylish design will make this Matrix Desk System the centerpiece of any office. You can find this desk at TheFurniture.com for $295.00.
A complete Office...
Be good to the environment, and good to your office style. This office is not only environmentally-friendly, but it is a modern piece of furniture art. All pieces of this furniture have met or exceeded the Greenguard Standard that regulates air quality control, so you can be assured that the emissions from the production of this line of furniture were low-impact. The use of space is optimized for comfort when sitting or reaching across the desk. Not only is this eco-furniture functional, but its minimalist form is also testament to the fact that going green doesn't mean losing your style. The latest trends are incorporated into a modern look that will stand the test of time, and remain up-to-date for years to come. If you are looking to spruce up your office-space, you can get this Clara Modern Office from Spacify for $2,562.00.
A modern Chair..

Contemporary comfort. This Petal lounge chair will welcome you after a hard day of work with its modern style and soft velour microfabric cushions. You can lean back and kick up your feet onto the matching ottoman. The bold cushions come in black or red, and will pleasantly contrast with the chrome-plated swivel base. This is the perfect compliment to a modern office, and would look smashing behind a bold silver or glass executive desk. You can order the Petal lounge chair and ottoman from ModernFurniture.com for $759.99.
A perfect modern office...