I have been on vacation for about two weeks and now I am back. Today I am writing and sharing with all ogf you secrets on how to create the perfect Kitchen. A very important room and in the minimal style of design, very complicated since iyt has to be minimal, modern, and very practical, and as we know the minimal style of design is sometimes not very practical..
Enjoy the pics and post..
Concealed Appliance are Always "In"
The kitchen has seen some major changes in style over the past few years. Appliances are getting bigger, stainless steel has become a centerpiece of fashion, and unique materials like granite are making waves. However, concealed appliances don't get nearly as much attention as they should.
Concealed appliances can make a kitchen feel like any other room of the house. By hiding your refrigerator, oven and other appliances, you can transform a "kitchen" into an all-purpose room that is open and inviting.
Appliances signal a room that's off-limits to guests. It's a room that is only used for cooking, and should be kept that way. But you won't have that walled-off feeling if you conceal your appliances in cabinets and the walls.
It's quite easy to conceal your appliances, especially if you're in the process of renovating. They are all already up against a wall, so it's only a matter of either building a cabinet around them or moving them into a nook or corner. Just be sure that you make them accessible, but invisible.
Concealed appliances can also save space. By encasing your dishwasher in a kitchen counter, for instance, you can use it as a chopping board or surface space when it's not in use (and even when it is!).
Concealed appliances can make your kitchen appear more inviting, and they even go so far as to equip it as a dining room, if you have a large enough space. You can bring in a table and chairs, and eat right in the kitchen without feeling like it's the kitchen at all.
Breathtaking Backsplashes
The backsplash is an often overlooked area of the the kitchen. It is certainly a functional item, protecting the back wall from splashes. However, it adds a splash of style as well as it usually stands out from the rest of your kitchen walls. If you're looking to get creative with your kitchen, take a good hard look at your backsplash and see if you can't spice it up.
One option that is becoming increasingly popular is continuing the counter material up the wall to create the backsplash. This maintains a cohesive pattern, design, and texture, and it can make a statement, especially if you counter material is unique like granite or funky tiling.
And backsplashes don't have to be one solid material the whole way around your kitchen. You can play with changing the material based on the location, such as darkening the color behind the stove and sink, or by running the countertop up from the counter but choosing a completely different style for other areas of the kitchen.
There are a variety of materials you can choose from when creating your perfect backsplash, and they each have their own style personality. For instance, tile can be plain or pack a powerful punch if you choose an interesting pattern or color combination. You can go laminate, black glass, or ceramic. And then there are the more daring options, like bamboo or other woods, and even metal backsplashes.
This is one style detail that you don't want to overlook when re-decorating your kitchen!
Hightower – Gallery Stool
Smooth, artful seating. It's clear that the Hightower Gallery Stools are inspired by high-end art gallery seating. They are minimalist in spirit, with their back-less, scooped form. You can sit on one of these stools for hours as you chat, eat or even watch a movie in your own home, and you'll have the feeling that you're witnessing a great masterpiece. They are crafted from sustainable wood and feature an innovative design that allows several to be joined together to create a unified bench. As an accent stool or as the central seating in your home, the Hightower Gallery Stool will always be in the spotlight. The Hightower – Gallery Stool is available at 2Modern.com for $650.00 – $830.00.
Cellula Chandelier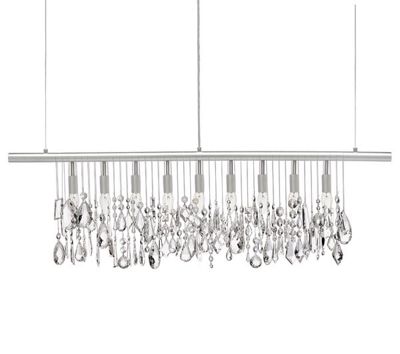 Elegant crystals, fractal light and the epitome of sophistication are the three design concepts that fuse together in this Cellula Chandelier. This chandelier is at home above a posh dining table, a bar, or in a commercial setting. It features a row of Swarovski crystals that hang delicately amid the subtle torpedo bulbs. The light from these bulbs is reflected off of the precision-cut crystals and sent out in a warm glow over the surrounding area, imbuing it with a romantic and understated mood. This chandelier is customizable, allowing you to adjust the placement of each individual crystal pendant by slotting them into the grooves on the aluminum hanging bar that holds this conceptual chandelier together. You can purchase the Cellula Chandelier for $2,100.00 ($2,600.00 regular price) from DWR.com.
Bombo Stool
Classic and contemporary collide! These original Bombo stools are sure to reinvigorate your bar and excite your guests. Straight from Italy, the quality of material and design in these stools is unmatched. The rainbow of available colors lets you create a kaleidoscope design or a more muted and sophisticated look. With an adjustable chrome base that uses a gas piston to achieve a height of up to 29 inches, these chairs are not only modern classics, but are also ultra-comfortable. You can purchase one of these classic art stools from Plush Pod for $742.00 to $1372.00, depending on the color choice.
Could you use a new range hood?
In most homes, a range hood is there to keep grease from accumulating on walls, paint from peeling and odors from taking over in a kitchen. However, a stylish range hood can completely transform the look of your kitchen and even become a focal point!
Style
The first thing that you need to decide is if you prefer a range that fits under a cabinet or one that is wall mounted. You also need to determine if your range will exhaust pollutants outside or if you're going to buy a recirculating one.
Features
Some range hoods have dishwasher-safe filters which is rather convenient. You may also want to consider if you want one that is completely smooth or if you won't mind getting a toothbrush out to scrub any grooves.
Would a remote control be handy or do you want one that turn on by itself when the heat sensors tell it to? You should also evaluate the lighting. A well lit cooking area allows you to really get a good look at the food you're preparing.
Noise Level
If you find one on sale but the noise level is a little obnoxious, keep shopping. A great deal isn't so spectacular when the volume on the television in the next room has to be turned up or if your guests have to talk over the noise. A range should never become a distraction!
There you have it.. some of the things to make your kitchen shine..
AG Home Goods